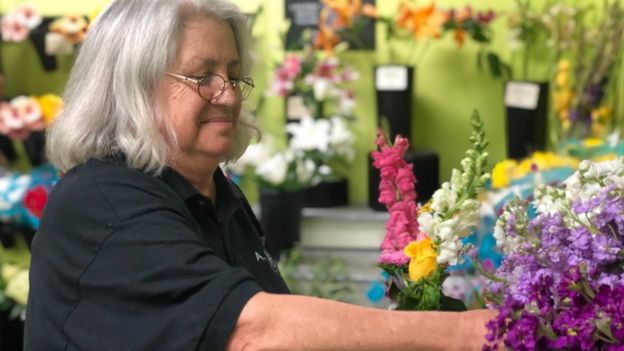 Like a lot of elderly people, Andreé Flageolle continues to work because she needs the mony
Andreé Flageolle, 74, another elderly Johnson & Sons employee loves the job, but admits that she's there because she needs the money.
Ms Flageolle, a nurse for many years, says her social security payment is enough to cover her rent, but leaves her little to pay for utilities and other monthly expenses.
She supplements her income with another part time job, at a company helping the elderly to remain independent and stay in their homes.
Still, the jobs are a labour of love, and Ms Flageolle particularly likes being around the younger workers at Johnson & Sons.
"I think that the mix really energises things and keeps you on your toes. Plus, I've found they teach me things, and I teach them. So, it's reciprocal," she said.
And that touches on another benefit of keeping elderly people in the workforce. "We know that multiple generations working together can lead to more creative thinking and innovation", says Cal Halvorsen, assistant professor at the Boston College School of Social Work.
But it's not just a benefit for companies and the wider economy, he says. Research shows that it's good for people personally - and that has got to be good for society in general.