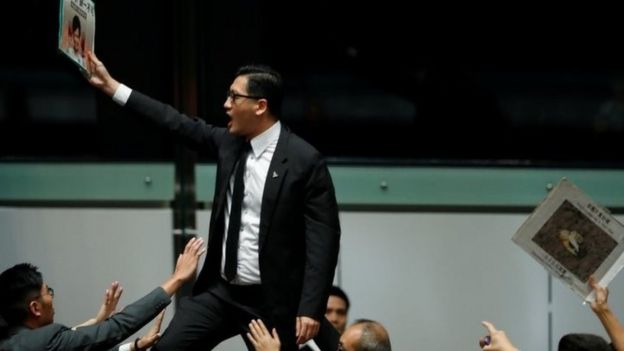 Protests began as soon as Carrie Lam arrived
Protests have taken place every weekend over the past month and in every district, causing widespread disruption.
Clashes between police and activists have become increasingly violent, with police firing live bullets and protesters attacking officers and throwing petrol bombs.
Ms Lam's address was scheduled just days after Chinese President Xi Jinping said any attempt to divide China would end in "bodies smashed and bones ground to powder" - comments seen as an implicit warning to Hong Kong.
How did the protests escalate?
The first protest took place in June
In July, protesters stormed Legco, spraying graffiti and defacing symbols
In August, one protester was injured in the eye, leading to activists wearing eye patches to show solidarity
Hundreds of flights from Hong Kong were cancelled that month after airport protests
In September, Ms Lam announced she would withdraw the extradition bill but most protesters said it was "too little, too late"
On 1 October, China celebrated 70 years of Communist Party rule and Hong Kong saw another day of violent clashes
An 18-year-old was shot in the chest with a live bullet and protesters fought officers with poles, petrol bombs and other projectiles
On 4 October the government banned face masks, invoking powers dating back to colonial rule
Last Sunday, peaceful rallies again descended into clashes with railway stations and shops deemed to be pro-Beijing targeted