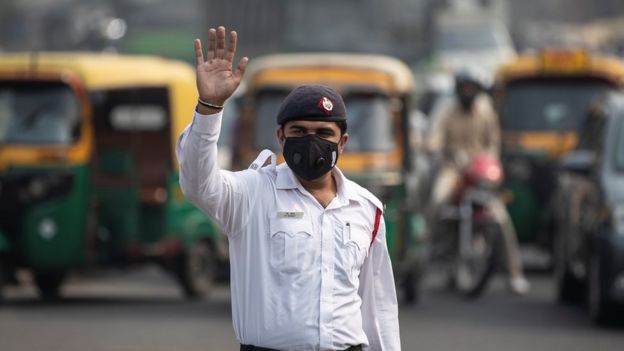 The delay in the planting cycle meant the harvesting cycle was also delayed. Farmers now have much less time to prepare their fields for the next crop cycle and burning stubble is a cheap and effective way to clear the land.
Unfortunately, this coincides with changing wind patterns over Delhi and the rest of north India.
"The perfect storm of conditions during November has created almost 30 percent higher atmospheric concentrations of fine particulate matter," said a Cornell University study published in July.
Delhi's geography - it is landlocked and sits on a flat plain that is blocked off by the Himalayas - means it is more drastically affected.
How does the odd-even plan work?
Hundreds of teams from the police, the transport department and civil volunteers have been deployed to enforce the system, which was previously used in 2016 and 2017.
It is likely to put extra pressure on the public transport system but officials say they will increase services.
If your number plate ends in one, three, five, seven or nine, you can only drive on odd dates (5,7,9,11,13 and 15 November) and if it ends in zero, two, four, six or eight, you can drive on even dates (4,6,8,12 and 14 November).
The restrictions are in place from 8am to 8pm from Monday to Saturday and will also apply to cars coming from outside the city. Sunday is free for all.